Thinking about getting engaged in Disneyland? Here are some tips and tricks to get those amazing Disneyland engagement photos!
While I love going to Disneyland for my own memories, I love it even more going there to capture families and couples. I highly recommend getting your engagement photos at Disneyland, if this is something you both love. If Disney is a big part of your lives, I can't think of anything better than doing a family or engagement session at Disneyland! After all, "here you leave today and enter the world of yesterday, tomorrow, and fantasy."
#1. Arrive Early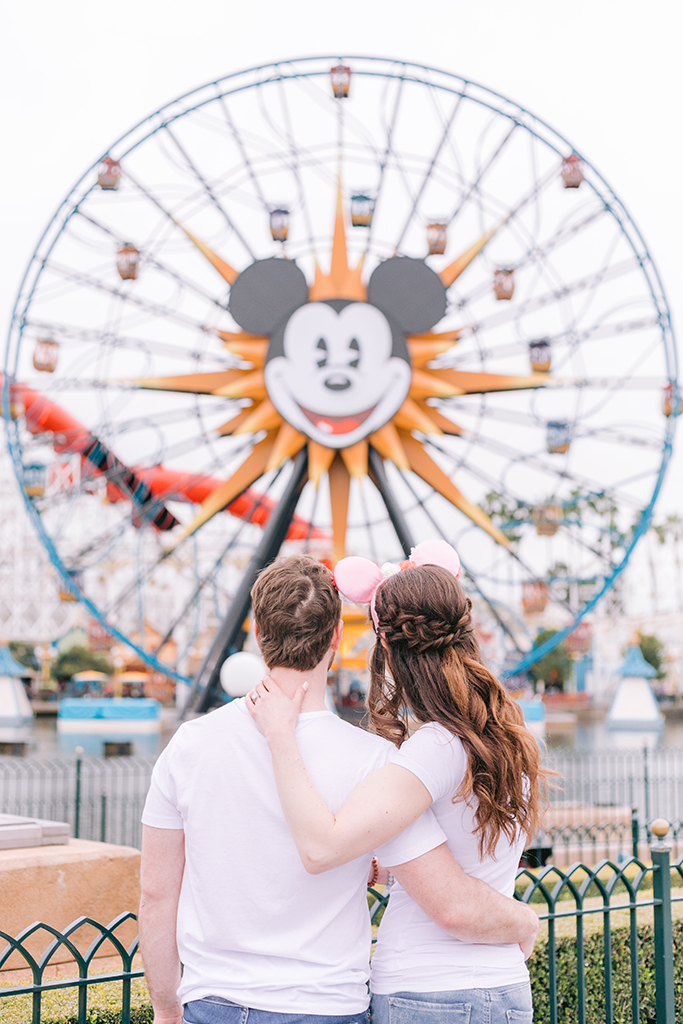 I always recommend two different time options for the perfect professional Disneyland engagement photos. The first is when the park first opens and the second time slot is during the golden hour, near sunset. All of my couples have opted for the morning time slot. Not only does this help with the crowds in the background, it also keeps them energized and excited for the rest of the day to unfold!
#2. Bring Something Extra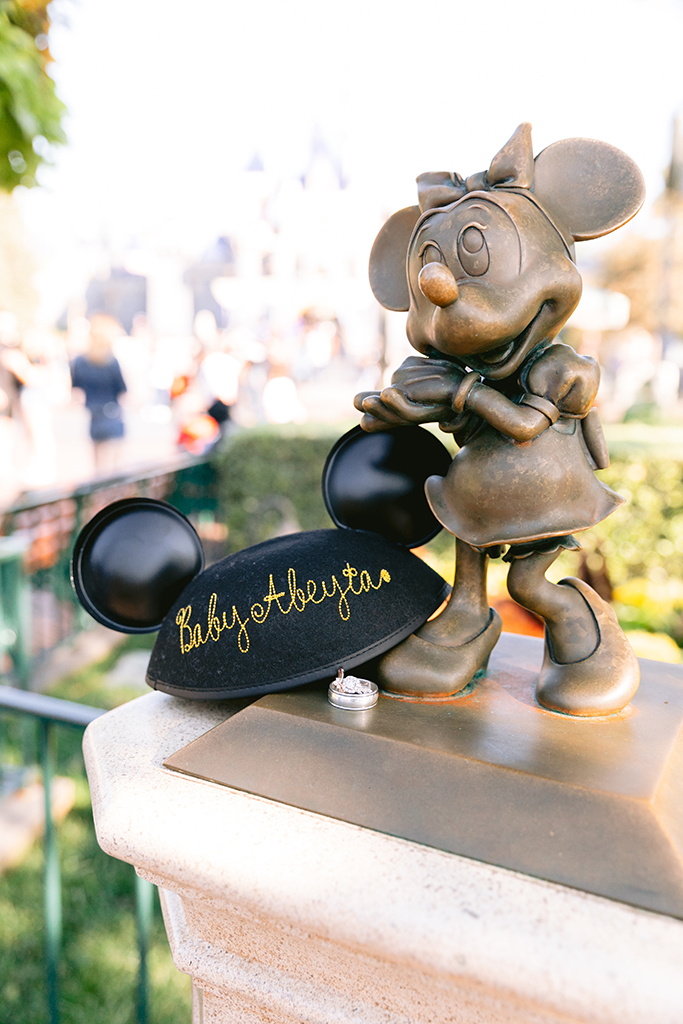 Whether it's personalized ears or signs, it's so special when couples bring something of meaning to the session.
#3. Location, Location, Location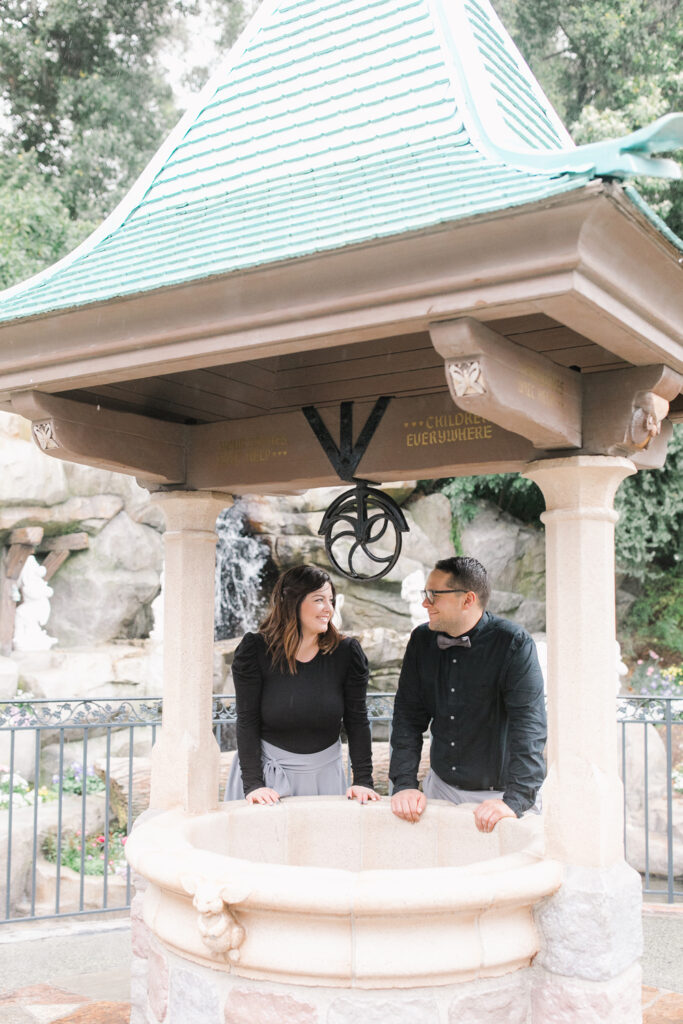 I encourage everyone to pick their top 3 "must-have" locations inside the park for us to shoot at. This way, we are more efficient when taking photos, and we don't miss any of your favorite places. For example, I have many couples who propose in front of the castle or Snow White's grotto. Since this is so meaningful to them, I will always take them here immediately at the start of the shoot so we can get those pictures locked and sealed!
#4. Dress It Up!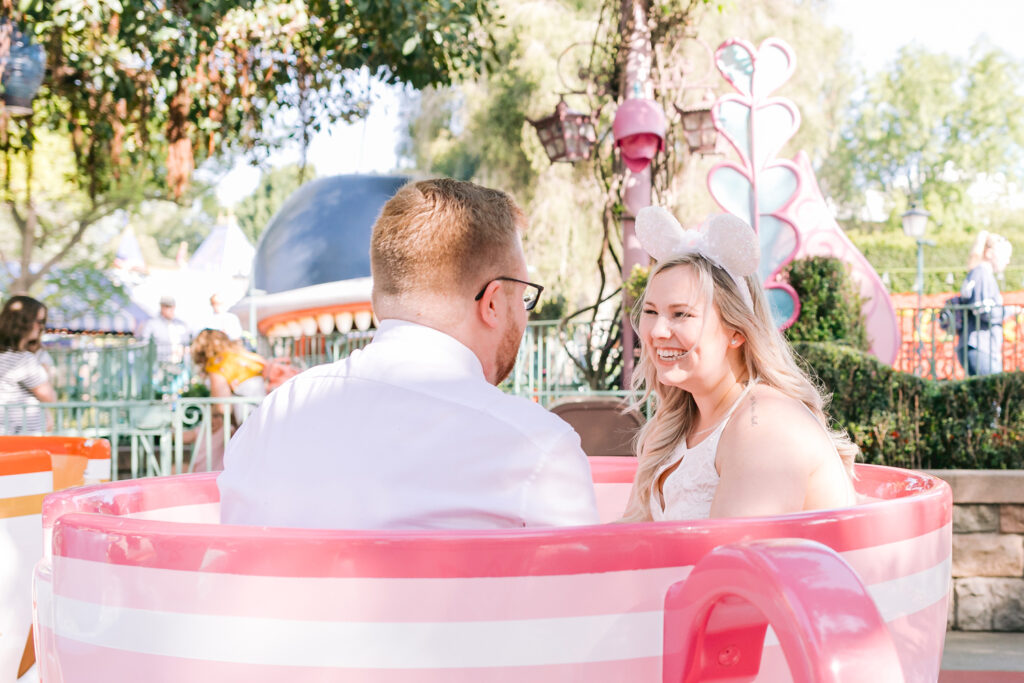 Want to wear white? Go for it! Want to wear a fancy dress? Yes, do it! Dress. It. Up. After all, you may only be in the park for an engagement session once, so you might as well dress up! If you're spending the day, bring an extra set of clothes to change into so you can enjoy yourself after. But I highly encourage dressing up to your heart's desire!
#5. Be in the Moment!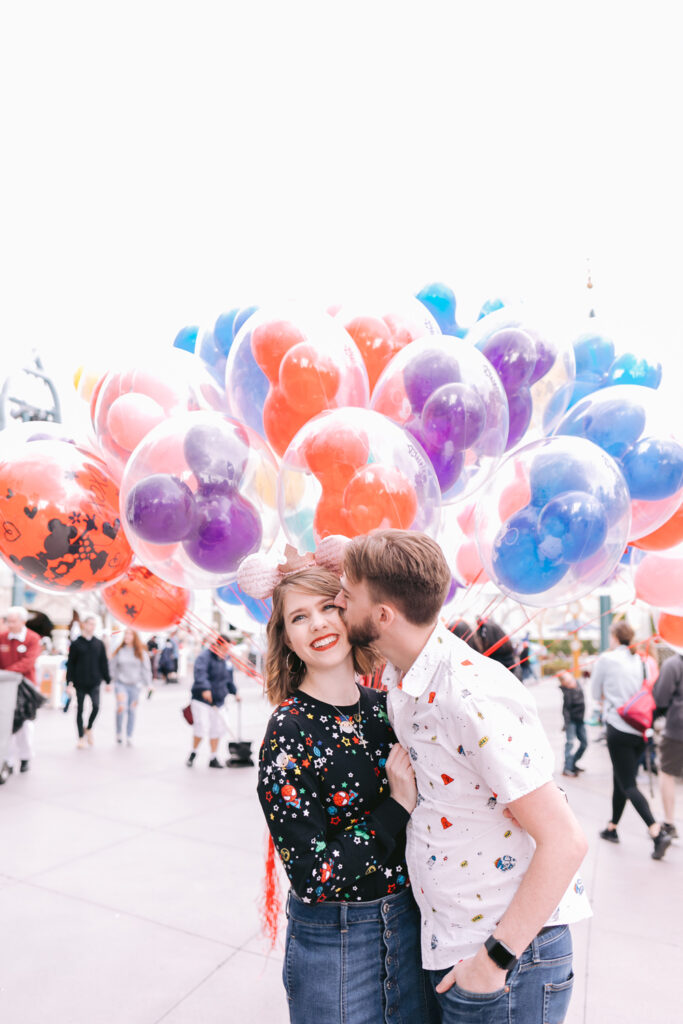 It's anything goes at Disneyland! If I see a great photo location, I'm going to ask you both to stop and take in the moment and photograph you two. There's never a lack of magic when you're at the park!
#6. Don't Forget DCA!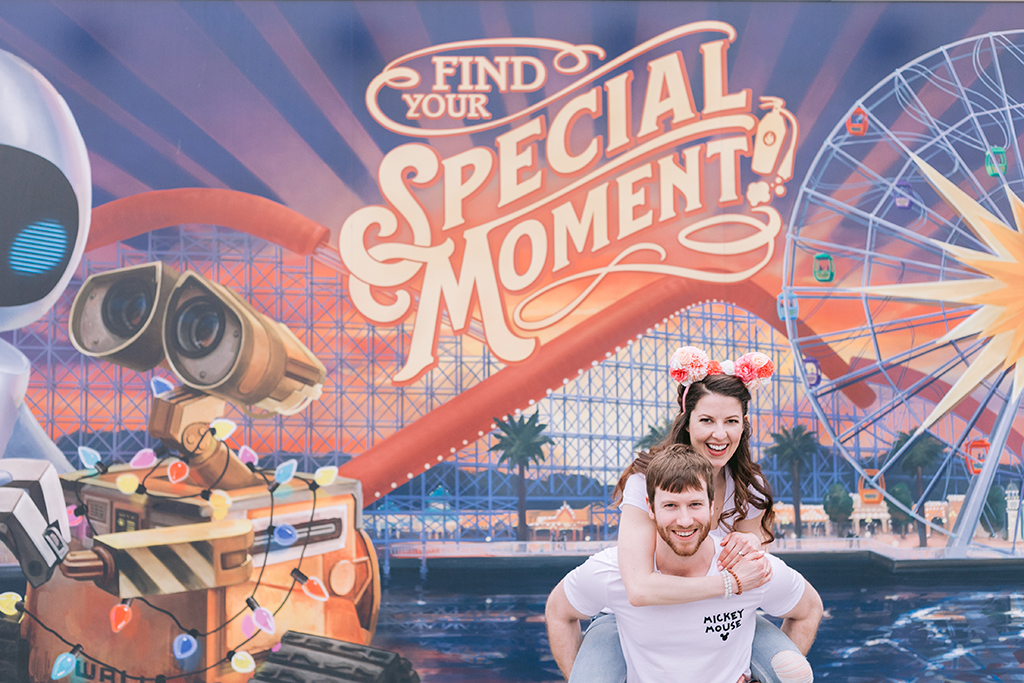 Don't just limit yourself to only Disneyland park. The Disney California Adventure side also has tons of amazing locations for your family or engagement photos. Plus, that Ferris Wheel is an amazing attraction!
#7. Toon Town Hours
Remember that Toon Town opens at 9 A.M. so if you're planning on visiting, let's schedule it when we're able to visit so that you don't have to wait!
#8. Embrace the Colors!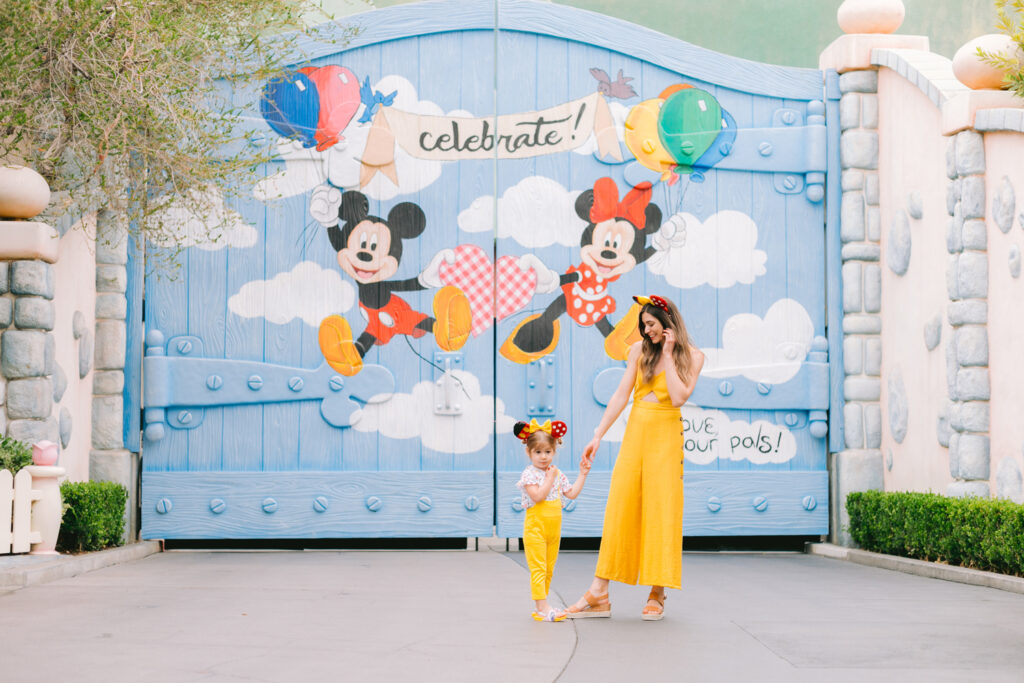 Disneyland is full of colors, so embrace it! Feel free to dress in your favorite bold color outfits. You can keep it neutral as well, but if you love colors just let me know! I'll take you to all my favorite locations guaranteed to give you that pop in your photos!
#9. Read the Style Guide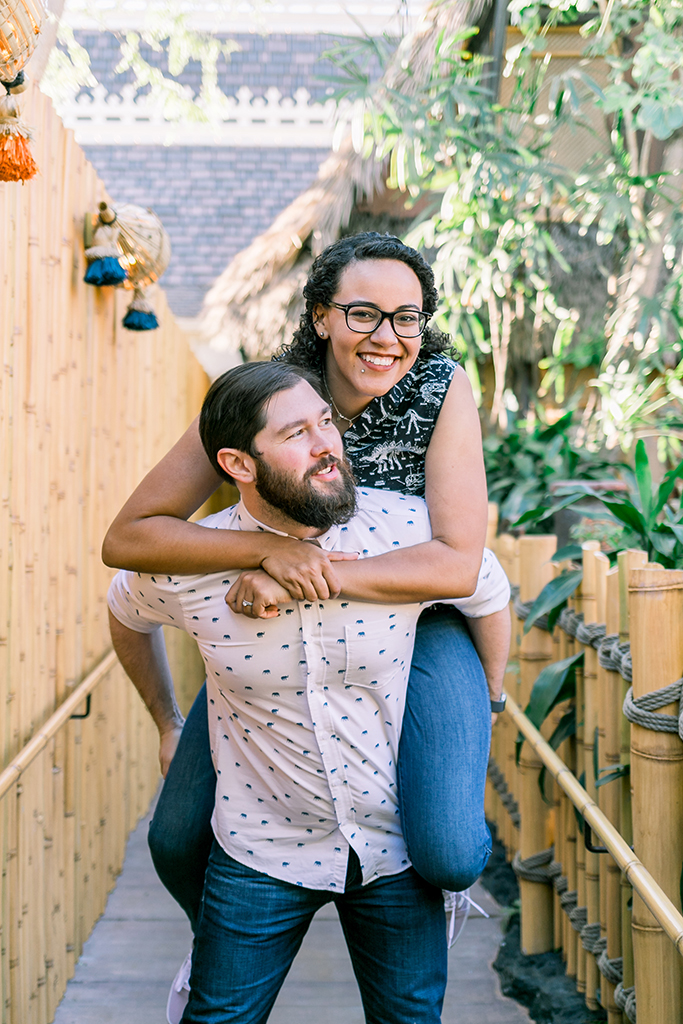 Have you seen our style guide? If you're not sure what to wear, check it out here for my personal recommendations! Pssst…I even have one for the groom!
#10. Bring Walking Shoes
Since we will be walking to and from many locations within the park (and sometimes even to Disney California Adventure), having an extra pair of shoes to change into will definitely come in handy! But if you're opting for a more casual session, you don't have to worry! Just wear your favorite pair of walking shoes instead.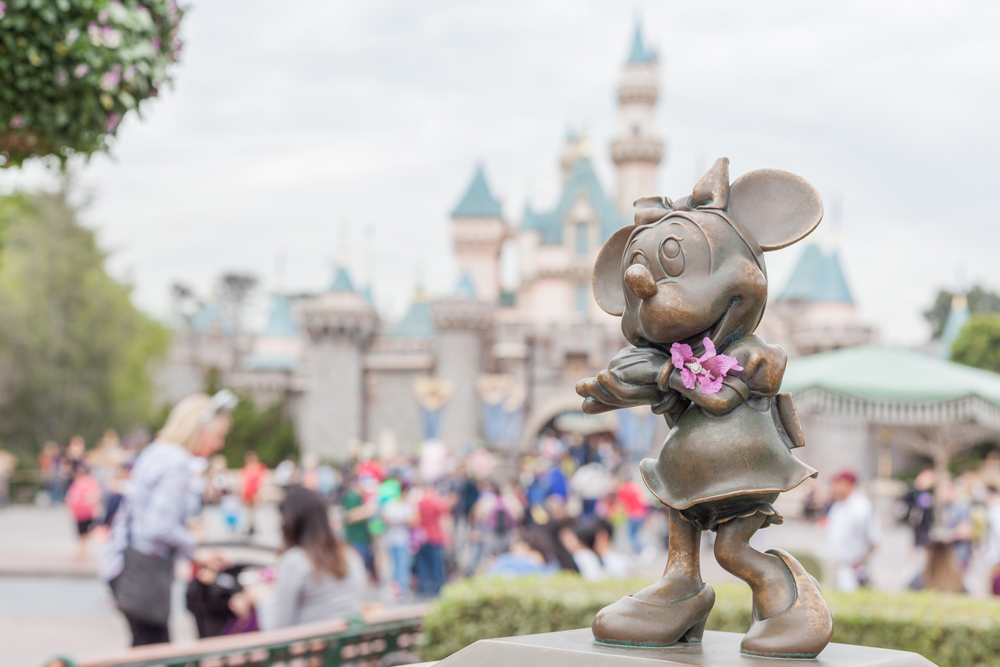 It can be exhausting and mentally draining as you prepare for your Disneyland engagement session. So one last BONUS tip, I recommend getting a good night sleep the day before, and while you're here, just enjoy the day and make it a memorable experience!