Congratulations! You've found your perfect partner, and if you're reading this, chances are she's probably sent you here to help you get ready for your exciting engagement session with us! Note that while I always encourage my couples to dress however they are most comfortable in, as a photographer I'm always down for a fancy shoot! So read the groom style guide below to get an idea of what you can do as a groom-to-be to make this shoot amazing!
Brides-to-be, if you haven't checked out the engagement style guide, take a look here! I've included tips and guides on how to look and dress your best for your engagement session.
As Long as I've Got My Suit & Tie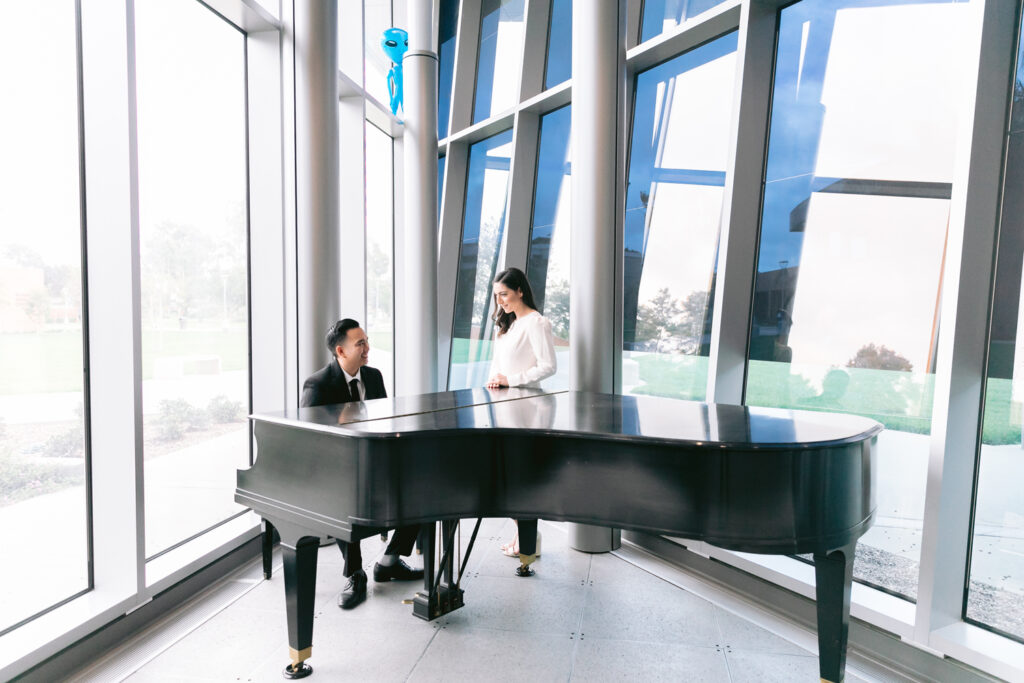 From James Bond to Don Draper, men look most striking in a well-tailored suit. If he doesn't have one, now's the perfect time to invest in something he'll wear for the rest of his life! The best part? It's a lot less expensive than you might think! While custom suits can cost thousands of dollars, some of the most well-known brands have off-the-rack suits in their stores for a fraction of the price. Solid shades of gray or navy are a strong complement to most women's outfits, whereas pinstripes or plaid patterns tend to distract the eye.
Quick Tip: There's no substitute for a well-tailored suit, so make sure you have the suit altered.
Mix It Up
Some grooms love to mix a suit coat, blazer or sport coat with a different pant color. It adds some extra visual interest, and can be more fun than wearing two full suits in a row. We're big fans of this fresh take on a timeless classic.
Layered Look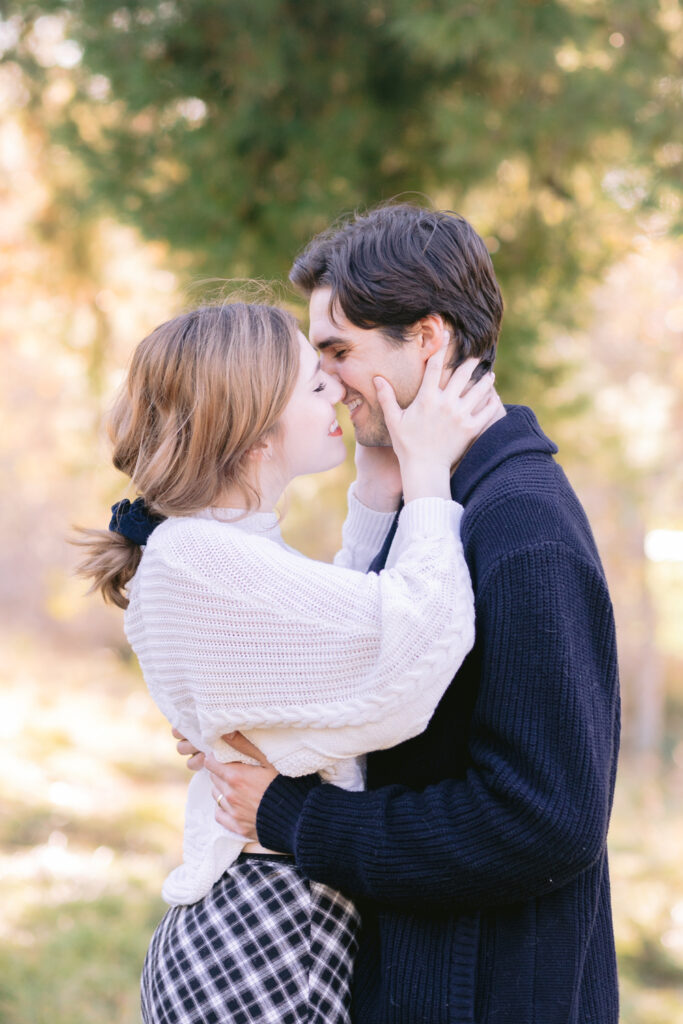 Next time you walk by a store like J. Crew, you'll notice the male mannequins and models are always wearing several layers at once. Layers on men look great on camera, so even when it's hot outside, trust me when I say that it's worth an hour or two of discomfort for photos that will last you both a lifetime. Adding another layer will bring extra dimension and visual interest to your photos. Blazers, vests and coats up the level of any look. If the temperature permits, you could even consider adding a v-neck sweater with a pop of color from a long-sleeved collared shirt and tie underneath. Don't be afraid to get a little creative with layers!
It's All in the Details
Long pants and closed-toed shoes are the most sophisticated and masculine looks for men. They draw attention away from his legs and feet and place it where you want it: on the face you fell in love with. So, for your session, it's best to leave the shorts, sandals and jeans at home, too. Suit pants, dress pants or colored pants work best. Brown leather dress shoes complement almost every look, whether you're wearing a full suit or a blazer and colored pants.
Ties, bowties, pocket squares, colored socks, belts, tie clips, suspenders, vests and watches are sharp complements to any suit. If you bring two suits to the session, you can start with a traditional necktie and belt, then switch to suspenders and a bow tie for your second look. If two suits are too stressful, no problem! One look will do the trick! You can still mix and match accessories to complement both of her dresses without doing a full change during the session. So, either way, you win.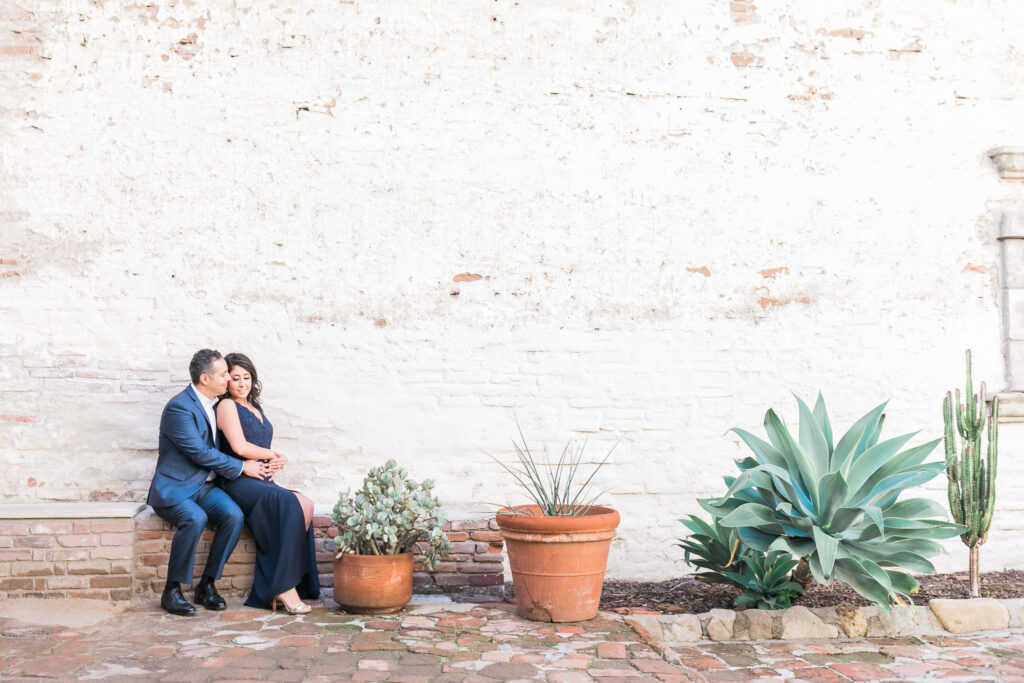 Brides: How to Prep Your Groom
Most men aren't overly excited to take photos for two hours, because they don't have an expectation of what's to come and why it's so important. Brides, take fifteen minutes to educate and empower your guy. Tell him why you chose us and our style of photography. Show him your three favorite sessions that we've done, explain why you love them and express to him how much it means to you. Trust me, he'll light up the camera for you! The most common thing we hear from guys before engagement sessions is this: because of a bad experience in the past, they don't like taking photos or don't think they'll be good at it. By the time we're done, though, they can't believe how fast it went and just how much fun they had!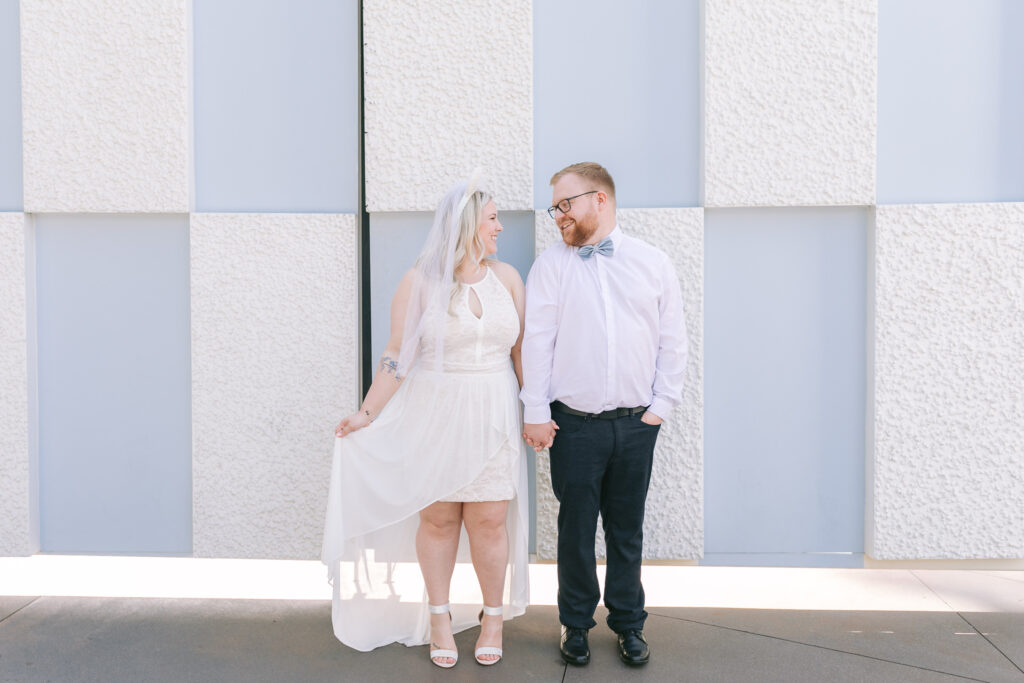 And that concludes our groom style guide. Grooms, when you're dressed with confidence and maintaining a positive attitude, I guarantee that you two will have a blast at your engagement session!